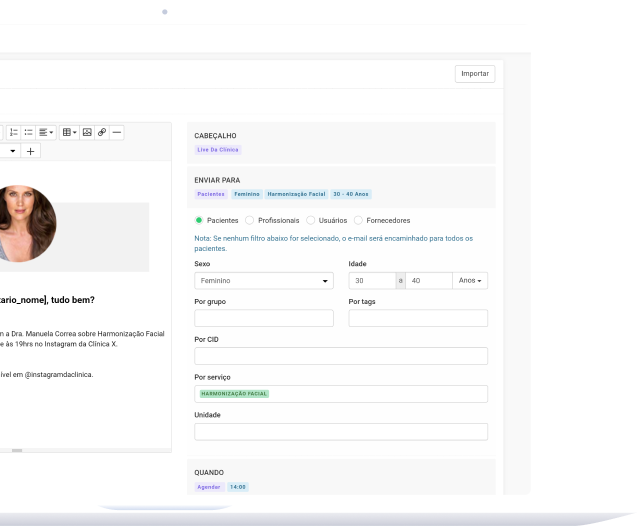 Promote the brand
Promote your brand, franchise, or clinic brand through periodic communication of events, live streams, certifications, and content that reinforces the relationship with patients.
Free trial!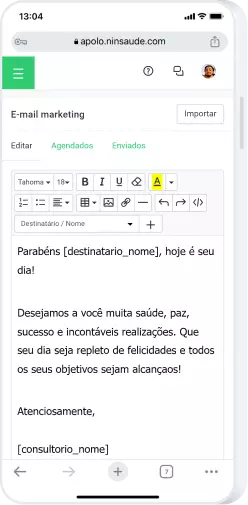 Birthday celebrations
Develop more empathetic connections with patients by sending automatic and personalized congratulatory messages tailored to each patient's profile.
Confirmation of appointments
Reduce patient no-shows by up to 68% by confirming appointments and procedures one or two days in advance. You can also confirm appointments from Monday to Friday.
In addition to the possibility of automation via SMS or WhatsApp *, it's possible to customize messages by patient profile in groups, age range, gender, service units, doctors, healthcare professionals, and services.
Social name
To ensure quality care for transgender and transvestite patients, it is important to refer to them by their social name. The social name is used in all interactions that occur during the patient's journey on the platform.
Ninsaúde Pay To provide greater convenience and predictability in the patient's journey, we offer the option of payment for consultations and procedures before or during the patient's visit.
CRM Clinic Ninsaúde Organize sales campaigns for new services and procedures or promote preventive services during seasonal periods with Ninsaúde CRM Clinic.
Follow-up appointment scheduling Patients have the option to request and schedule follow-up appointments either at the reception or directly in the office with their doctors, dentists, and other healthcare professionals.
Sell more services Promote complementary services to patients by selecting engaging videos and scheduling their display on the reception's television. This way, you can capture the patients' attention towards services that may be interesting and relevant to them.
QR Code technology Enhance the patient experience with numerous connectivity possibilities among devices using QR Code technology.
Shared learning Hold regular meetings with the customer success team to enhance the use of the Ninsaúde platform and exchange knowledge and experiences on patient retention.
Frequently asked questions
Is it possible to notify all patients about the clinic's Instagram live?
Yes. Moreover, it is possible to customize the content of the messages according to each patient's profile, which significantly improves communication and, consequently, patient retention.
Is it possible to add a task for the secretary to contact a specific patient?
Yes. It is possible to manage tasks for secretaries, administrators, doctors, dentists, physiotherapists, and all healthcare professionals.
Does participating in the patient's journey increase patient retention?
Yes. By involving patients in decisions about their treatment and care, they perceive that they have an active role in their health process. This not only increases retention but also generates greater engagement and encourages them to recommend the service to friends and family.
Ready to get started?
Ninsaúde consultants can collaborate with you to address your challenges and help your franchise achieve leadership.