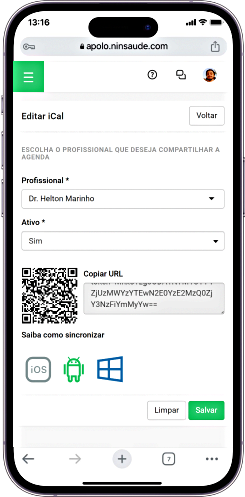 iCal Extension
Share your calendar view with external professionals, hospitals, or even natively on smartphones, tablets, and smartwatches.
Free trial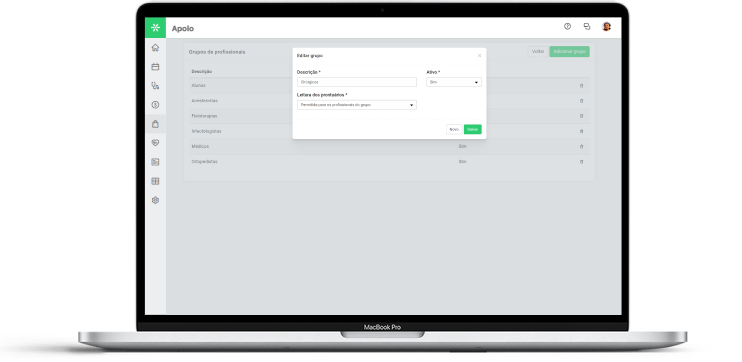 Medical records sharing
Offer the best productivity experience for teamwork by allowing doctors, dentists, and healthcare professionals to share health information about patients. Especially in cases of surgical procedures where multiple specialties are required.
Free trial
Group patients by risk, care, patient profile, and surgery profile
Group patients to monitor them from the beginning of the patient journey, including team treatments, lists, statistics, and service sales.
Free trial!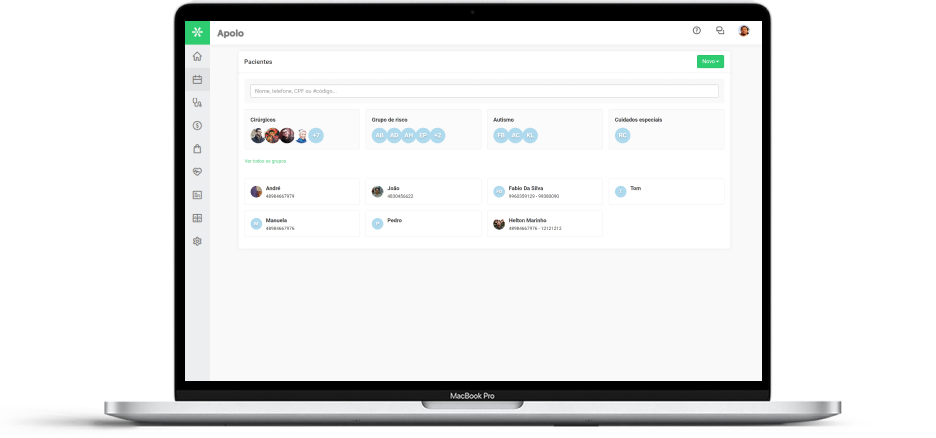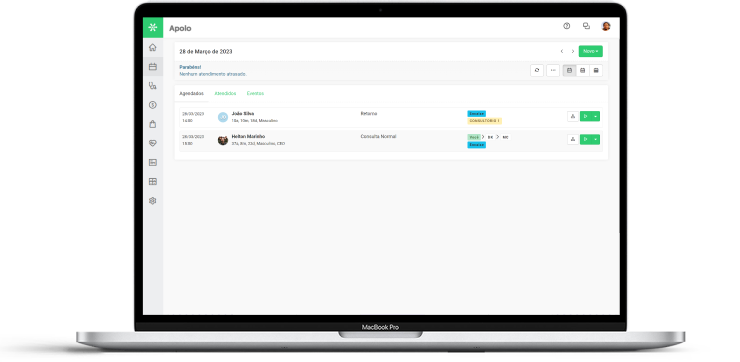 Order of service for franchises and multidisciplinary clinics
Serve patients who have scheduled appointments with more than one healthcare professional on the same day, respecting the service queue. This feature is commonly used by medical and dental coworking spaces, polyclinics, and multidisciplinary clinics.
Free trial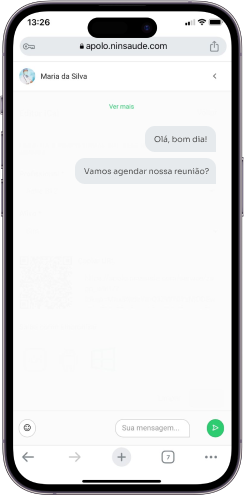 Tasks and chat
Manage tasks and work communications with your team in an integrated manner, without the need for external applications or concerns about communication issues.
Free trial
Ninsaúde Pay React quickly to patients' interest in complementary services while they are in the office. Doctors, dentists, and healthcare professionals can charge fees for additional services and not miss out on sales.
CRM Clinic Ninsaúde Use Ninsaúde's Clinic CRM software to prospect patients who have already undergone a procedure at your clinic or franchise and thus fill the team's schedule.
E-mail marketing Schedule operational emails requesting invoices and payment receipts from doctors, dentists, and healthcare professionals, or tactical messages to notify about maintenance, appointment blocks, and contractual changes in your franchise or clinic.
Legal validity Thanks to digital certificates, the electronic health record offered by the Ninsaúde platform have the same legal validity as paper records. Comply with data protection and environmental laws and save physical space that was previously used for paper storage.
Frequently asked questions
How to retain engaged doctors in the team?
Medical teams are paid by the hour and require high efficiency and a reduction in bureaucratic processes. We have helped thousands of teams with the Ninsaúde platform.
What are the tools for managing doctor engagement?
The Ninsaúde platform allows for improved communication, work efficiency, and increased team productivity. Other complementary solutions can help. Some examples are: Ecodoc, Todoist, Evernote, Asana, and Trello.
Ready to get started?
Ninsaúde consultants can collaborate with you to address your challenges and help your franchise achieve leadership.